MAJOR PHASE 2 DRILLING PROGRAM COMMENCES ON THE PIEDMONT LITHIUM PROJECT

ANNOUNCEMENT TO THE AUSTRALIAN SECURITIES EXCHANGE
| May 31, 2017 |
ASX:WCP

170531_wcp_major_phase_2_drilling_program_commences-1.pdf
WCP has commenced the major Phase 2 drilling program which will test the entire 4+ kilometer strike length across the four high grade lithium corridors identified on the Project
The Phase 2 drilling program comprises ~90 holes and over 9,400 meters of drilling
Completion is expected by the 3rd Quarter 2017 upon which over 13,000 meters of drilling would have been completed on the Project
Following successful delineation of a maiden Mineral Resource, the Company then expects to commence a Scoping Study and other technical studies on the Project
Figure 1: Phase 2 Drill Program on the Piedmont Lithium Project
WCP Resources Limited ("WCP" or "Company") (ASX:WCP) is pleased to announce that it has commenced the second phase of a drilling campaign on the Piedmont Lithium Project ("Project") owned by the Company's 100% subsidiary, Piedmont Lithium Inc., which is located in the Carolina Tin-Spodumene Belt ("TSB"), a historic lithium producing district in North Carolina, United States.
The Phase 2 drilling is planned to consist of approximately 90 holes totalling 9,400 meters of drilling which will systematically explore and define mineralization along the four high grade corridors identified on the Piedmont Lithium property (Figure 1). Generally, the holes are designed at 80 -100 meter spacing laterally and 40 meter spacing down dip. Areas of more significant mineralization may be drilled on a tighter spacing and test to greater depths. The results of this second phase, together with the first phase and historical exploration and drilling campaigns, will continue to build upon the understanding of the lithium bearing geology for the Project and ultimately yield a maiden Mineral Resource estimate for the property.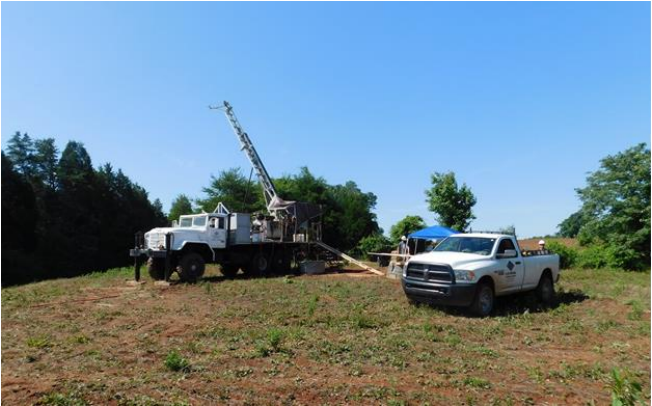 Figure 2: Phase 2 Drill Rig On-Site
The Company is highly confident of its ability to delineate further high grade intercepts in this drilling campaign which will showcase the potential for the Project to become a leading US based developer of lithium raw material supply into the growing US domestic Electric Vehicle and Battery Storage markets.
Upon completion of the second phase drilling campaign the Company intends to estimate a maiden JORC / NI 43-101 compliant Mineral Resource for the Project.
For further information, contact:
Keith Phillips
President & CEO (elect)
T: +1 973 809 0505
Anastasios (Taso) Arima
Executive Director
T: +1 347 899 1522