Helping to provide much-needed lithium resources
The demand for lithium is soaring, and not enough lithium hydroxide is being produced – in the U.S. or globally – to power the electrification of transportation. 
Piedmont Lithium is a development-stage company centered on building a multi-asset, integrated lithium business that we believe is uniquely positioned to support the demand for lithium hydroxide. This material is critical for the global clean energy economy and the electric vehicle revolution in the United States and North America. 
Piedmont plans to produce lithium hydroxide from spodumene concentrate through conventional quarrying and processing. This begins with mining for spodumene ore. Once spodumene ore is mined, a concentrate is created where the lithium-bearing spodumene is filtered and captured. The concentrate then goes to a processing operation where the hydroxide is produced.
Currently, we are developing four key projects on a timeline that positions us to become a large, low-cost, integrated producer of lithium hydroxide and a prime contributor to the effort to secure America's energy independence. We expect these strategically-timed investments to allow us to bring our operations online in 2023, 2024, 2025, and 2026.1
Our equity investments in lithium projects in Quebec and Ghana provide us with a near-term opportunity for production of spodumene concentrate beginning in 2023 and 2024,1 respectively. Offtake agreements with these international investments are expected to bring that spodumene concentrate to the United States and North America.
Tennessee Lithium is being designed as a world-class lithium hydroxide facility with first production targeted for 2025.1 When operational, the site is expected to produce 30,000 metric tons of lithium hydroxide annually – doubling the current production in the United States.
We are also planning a fully integrated site in the renowned Carolina-Tin Spodumene Belt. Our proposed Carolina Lithium project will include a quarry, spodumene concentrator, and lithium hydroxide production facility, which is expected to come online in 20261 and produce an additional 30,000 metric tons of lithium hydroxide annually.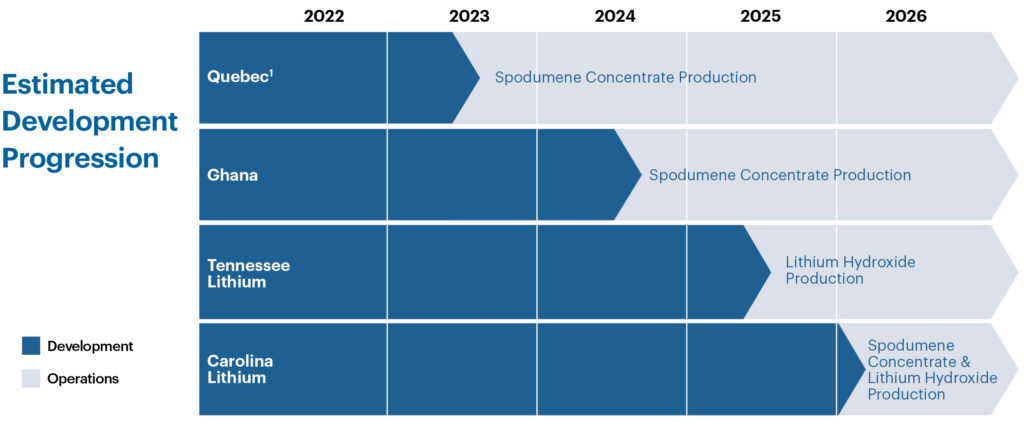 1 Production in Quebec only includes North American Lithium. For all our projects, our timeline is subject to a range of variables, including permitting, project financing, and supply chain timelines.