Powering America's Clean Energy Transition
"80% of the world's lithium hydroxide is produced in China, largely by non-integrated 'merchant' producers sourcing spodumene concentrate from Western Australia. As global automotive companies electrify their fleets, we expect them to increasingly seek ex-China sources of lithium supply, and North Carolina is ideally-positioned to benefit given its proximity to major auto markets in the US and Europe, and the deep lithium talent pool resident in the region."
KEITH D. PHILLIPS
President & Chief Executive Officer
The Promise of Our Project. A homefield advantage.
With our geographically strategic North Carolina location, we are uncommonly positioned to totally reimagine and reinvent the conventional lithium supply chain.
US electric vehicle and battery manufacturers will have a more cost-effective option to the Australia/Latin America/China supply routes. The key is the size and richness of the deposits that are part of the Carolina Tin Spodumene Belt.
Approximately 25 miles long and two miles wide, the belt once supplied most of the western world's lithium. Our core landholding within the belt currently consists of 1199 acres and we are actively adding further options to expand our presence in the region.
We are targeting the production of 160,000 tons per year of spodumene concentrate that we will convert to 22,700 tons per year of battery-grade lithium hydroxide.
The state of our business. Doing things right the first time.
A lot goes into getting an operation like ours up and running. Research, testing, permitting, team building, community outreach, regulatory compliance; all necessary and we wouldn't have it any other way. Process and rigor are extremely important. So, where are we in the process?
Two key federal permits are required for our project.  In November of 2019 we received a Section 404 Permit for our proposed concentrate operations from the US Army Corps of Engineers.
In November of 2020 we received our Construction and Operations Air Permit for our proposed Chemical Plant from the N.C. Department of Air Quality.
In the first half of 2021 we will submit our application for a North Carolina State Mining Permit. Also, in 2021 we will need to submit for local rezoning approval from county officials.
Pilot scale testing has been conducted to validate spodumene ore concentrate composition targeting at least 6.0% Li2o. This test work supports future pilot programs related to lithium hydroxide production that are part of our Definitive Feasibility Study (DFS). 
In 2021 we launched our DFS to support production of our 160,000 ton per year quarry and spodumene concentrator. This DFS, being conducted by Primero Group and Marshall Miller & Associates, will also include co-products such as quartz and feldspar. This study compliments work being done by SGS Canada. We expect study results to be completed by the summer of 2021. 
Additionally, we expanded our exploratory drilling program and expect to update our Mineral Resources estimate in support of reporting Ore Reserves also by the summer of 2021.
A Lithium-Rich Region 
Geologically, the Piedmont Lithium Project lies within the Inner Piedmont belt adjacent to the Kings Mountain shear zone, which separates the Inner Piedmont belt from the Kings Mountain belt to the east. Our core landholding currently consists of 1199 acres and we are actively and aggressively adding further options to considerably expand our presence in the region.
Mineral Resource Estimates
Lithium Resources
In June 2019 Piedmont announced a Mineral Resource estimate update on its Core property to 25.1 million tonnes at 1.11% Li2O.  Project-wide Mineral Resources are now 29.1Mt at 1.11% Li2O containing 309,000 tonnes of lithium oxide (Li2O) or 764,000 tonnes of Lithium Carbonate Equivalent ("LCE") (the benchmark used in the lithium industry). Approximately 50% or 13.9 million tonnes of the Mineral Resource is classified in the Indicated Resource category.
The Mineral Resource estimate has been prepared by independent consultants, CSA Global Pty Ltd ("CSA Global") and is reported in accordance with the JORC Code (2012 Edition).


A project-wide Exploration Target has been estimated by CSA Global.  This is in addition to the Exploration Target released in April 2019 for the Central property.  The table summarizes the Exploration Target potential of the Piedmont Lithium Project.


Importantly, 74% of the Core Mineral Resource is within 100m of surface and 97% is within 150m of surface.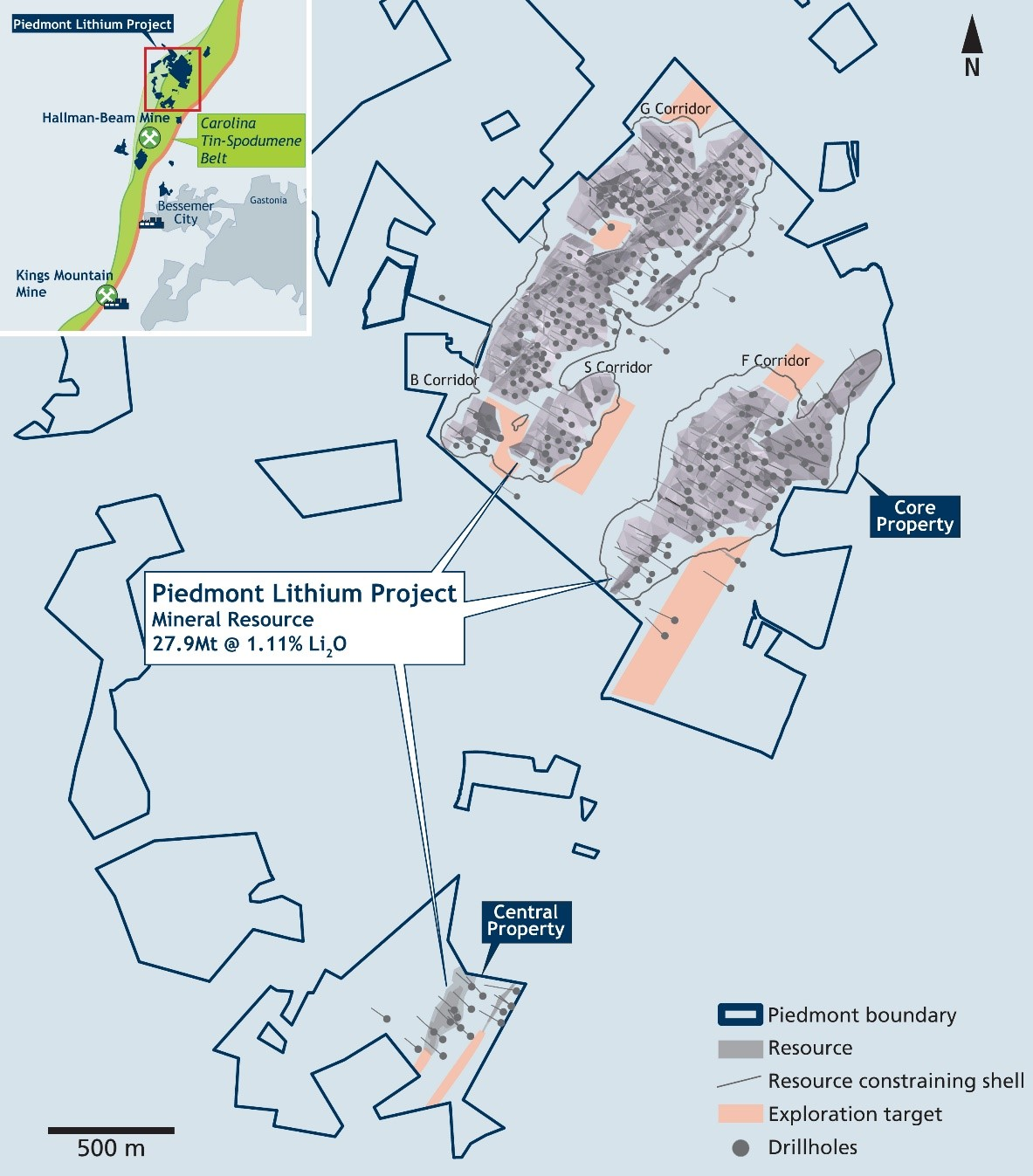 Core Property Mineral Resource
In June 2019 an updated Mineral Resource estimate ("MRE") for Piedmont's wholly owned Piedmont Lithium Project in North Carolina, USA was prepared by independent consultants, CSA Global Pty Ltd ("CSA Global") in accordance with the JORC Code (2012 Edition).  This update featured an increase of the Mineral Resources on the Company's Core Property to 25.1Mt at 1.09% Li2O.

An important feature of the Core MRE, is that 74% or 18.6 Mt is located within 100 meters of surface.  The details of the MRE with regards to depth from surface are shown in the table below.


To date, drilling on the project's 1,004-acre Core property consists of 326 holes totaling 51,047 meters.  The MRE utilizes all 326 holes.  In general, drill spacing ranges between 40 – 80m.  Dike areas tested by drilling at 40m lateral and downdip spacings were eligible to receive an Indicated resource classification, whereas areas with wider spacings received an Inferred resource classification.  A plan view showing the Indicated and Inferred classification areas is shown in the figure below.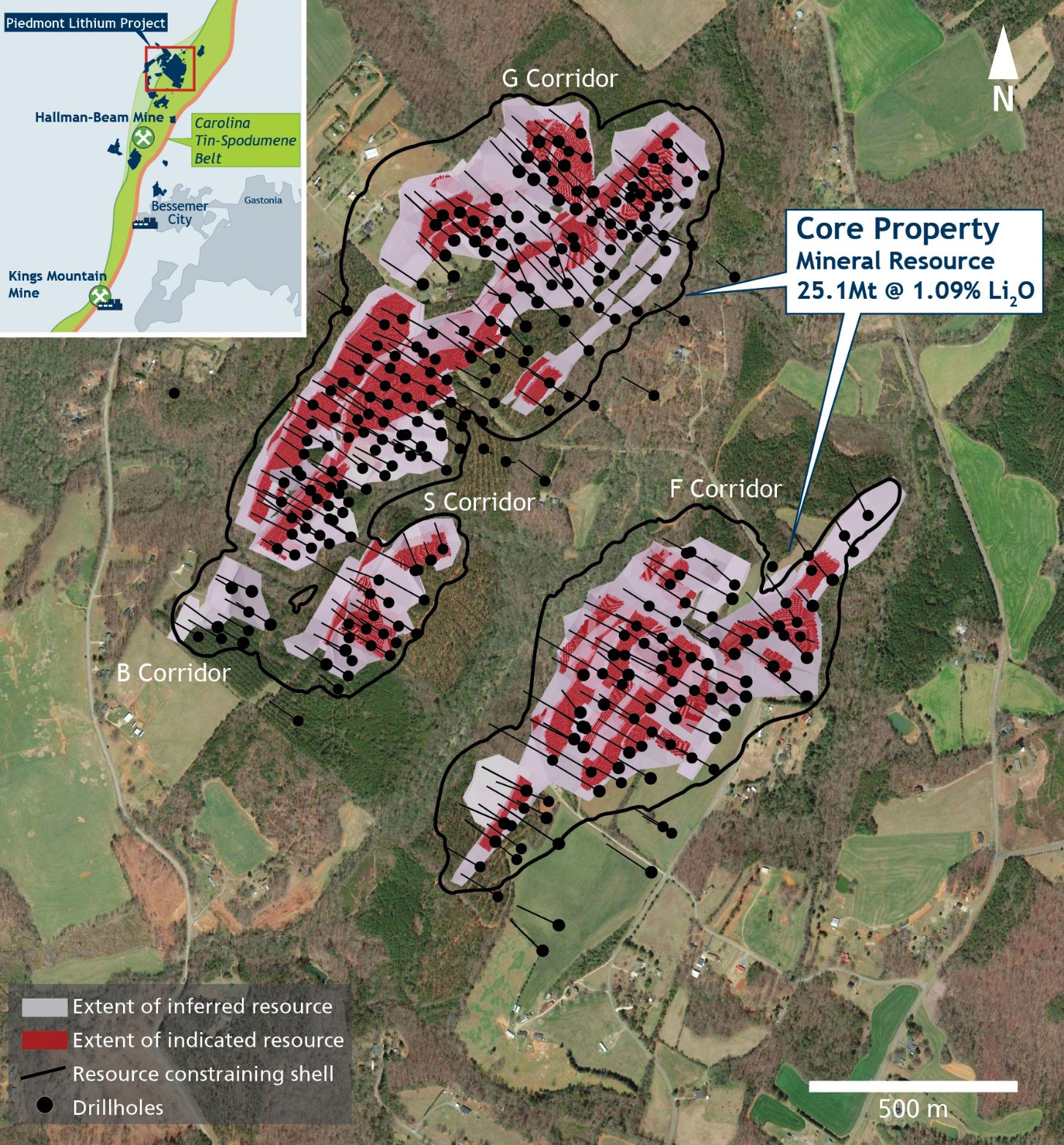 The figure below shows a view (looking northeast) of the MRE block model at various grade cut-offs.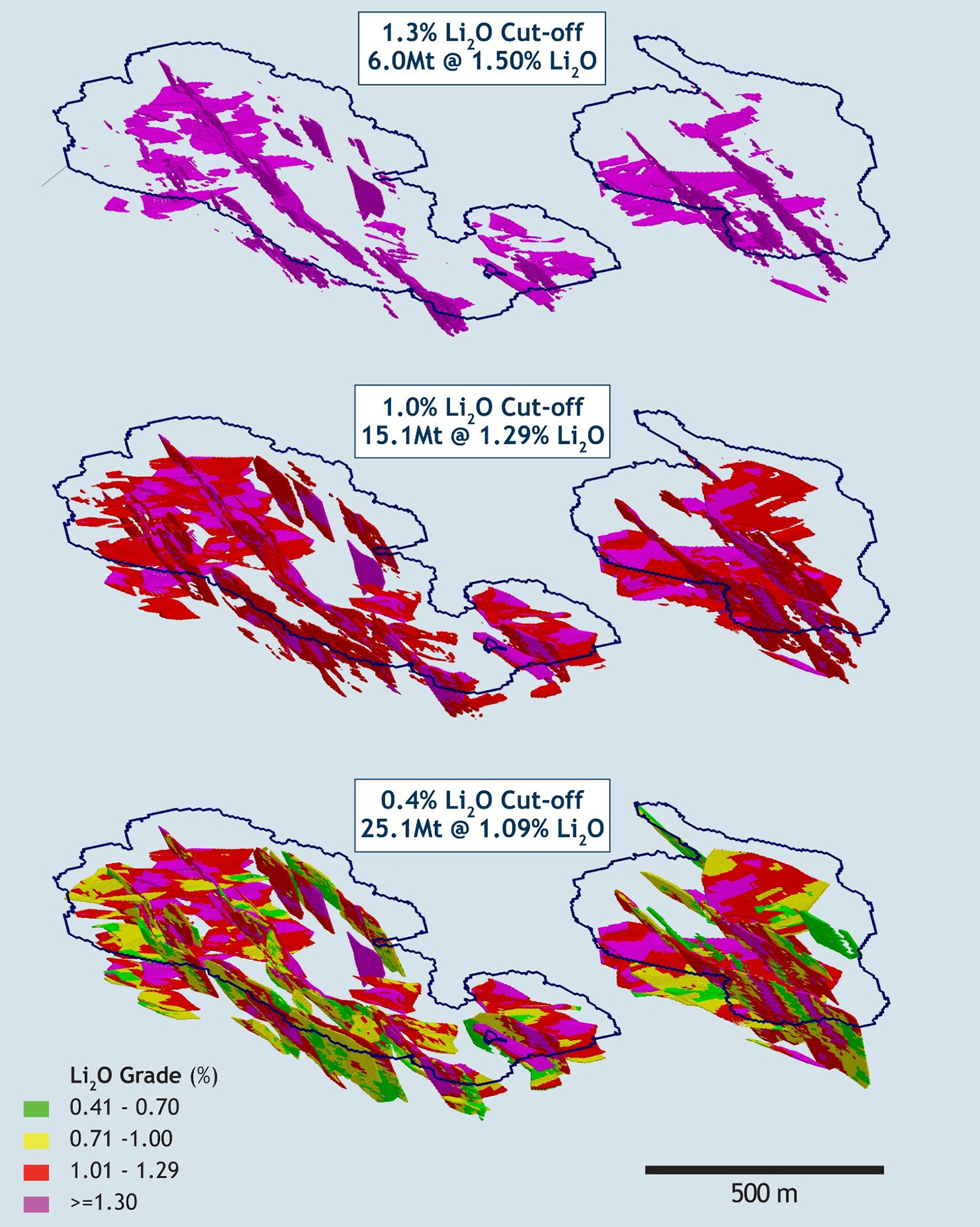 A grade-tonnage curve for the Core Property is shown below.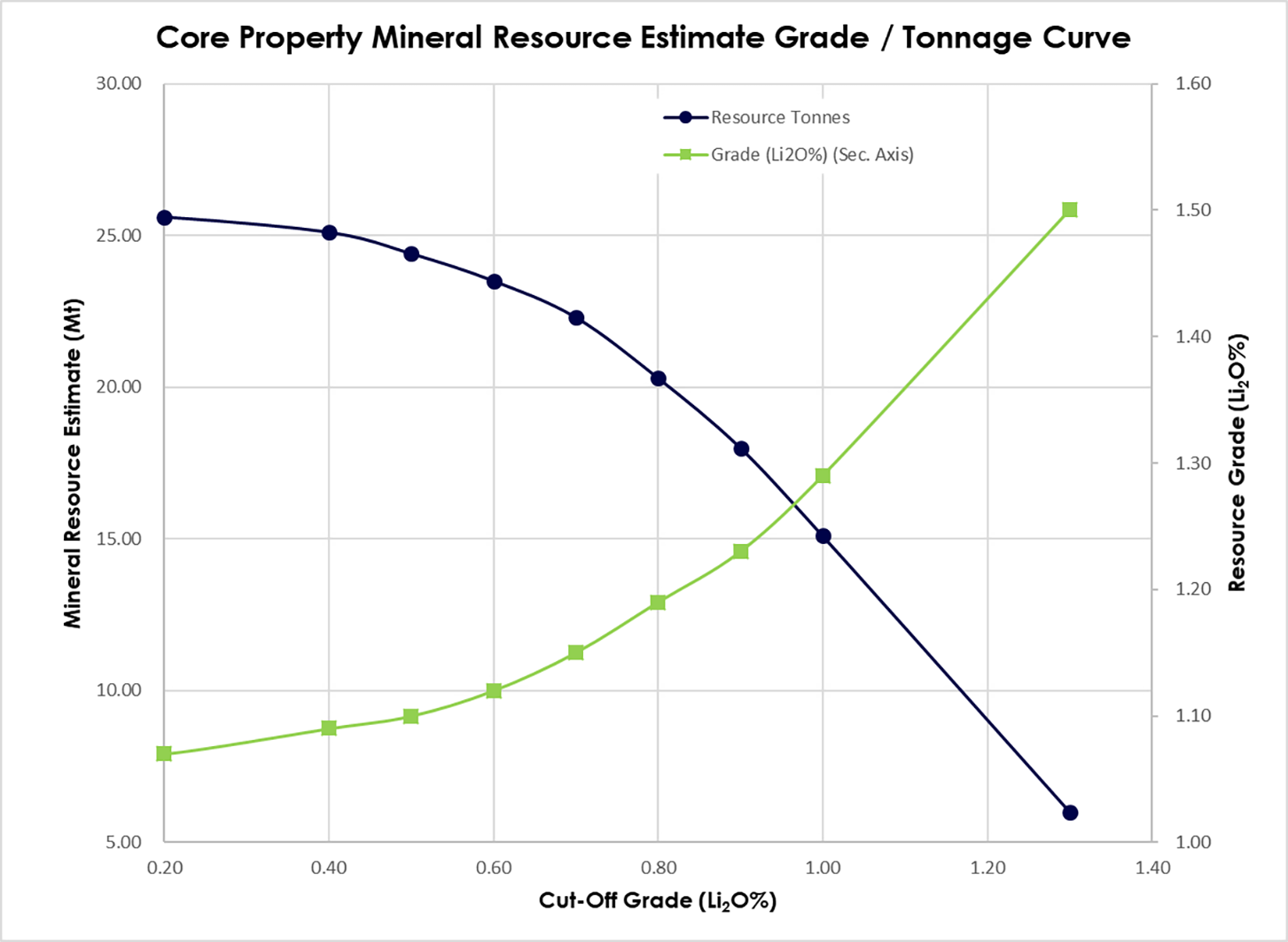 Central Property
In April 2019 a Mineral Resource estimate ("MRE") for Piedmont's wholly owned Piedmont Lithium Project in North Carolina, USA was prepared by independent consultants, CSA Global Pty Ltd ("CSA Global") in accordance with the JORC Code (2012 Edition).  This MRE featured an initial Mineral Resource on the Company's Central Property of 2.80Mt at 1.34% Li2O.
The reported Central Mineral Resource estimate ("MRE") was based on 18 diamond core holes totaling 2,840 meters. Significant intercepts were encountered in all 18 holes.  The Central deposit is open in all directions. The Central Property is located approximately 1 mile south of the Core Property.
The resource is comprised of two sub parallel northeast trending spodumene bearing pegmatite dikes.  The western dike is defined by 11 drill holes for a strike length of 370 meters and to a depth of 230 meters.  This dike dips steeply to the southeast and remains open in all directions.
The eastern dike has been intersected by 5 drill holes, traced for 220 meters and is nearly vertical in its orientation.  The dike is high grade and has produced some of Piedmont's best drill results to date including 43.2 meters @ 1.73% Li2O.  This dike also remains open in all directions.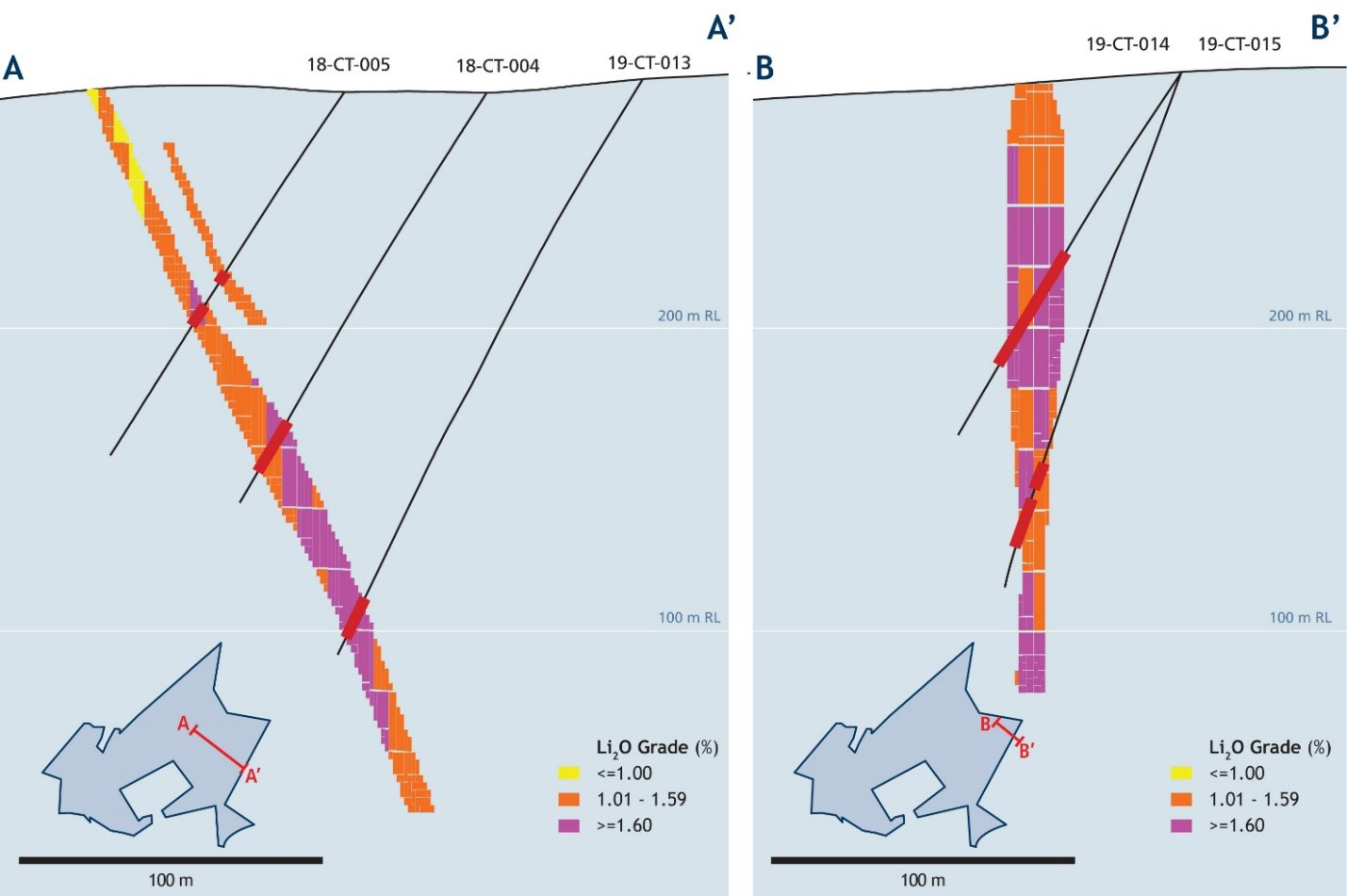 Mineralogy
The Company has completed mineralogical testing, comprising semi-quantitative and quantitative x-ray diffraction ("XRD") analysis, on samples of mineralized pegmatites and composite samples from Piedmont's Core, Central, and Sunnyside Properties.  All testwork to date effectively demonstrate that lithium occurs almost exclusively in spodumene in Piedmont's mineral resource.
Piedmont has been advised that the relatively pure spodumene character of its ore body is unusual and highly positive, allowing for a simplified flowsheet to produce strong lithium recoveries. Certain hard rock lithium projects are understood to contain multiple lithium-bearing minerals (petalite, lepidolite, zinnwaldite, etc. as well as spodumene).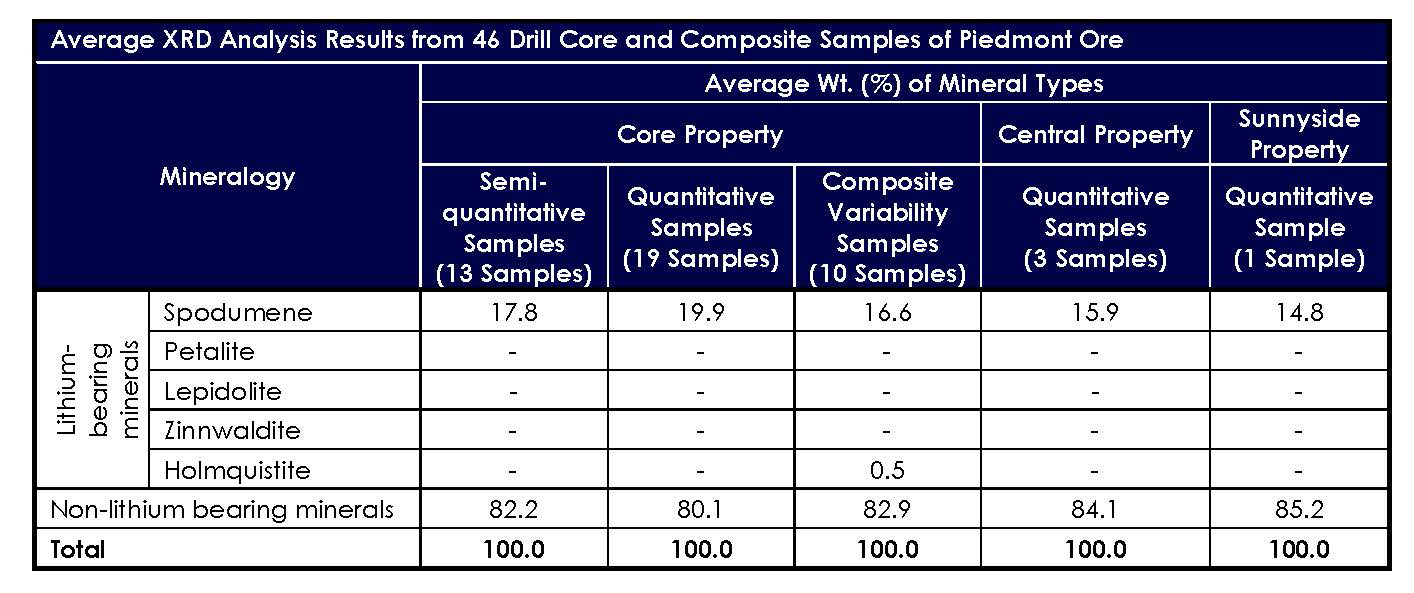 Byproduct Resources
In September 2018 Piedmont developed Mineral Resource estimates for byproduct quartz, feldspar, and mica mineral products from the spodumene bearing pegmatite on its Core property.  These Mineral Resource estimates are based on the same geologic model that resulted in a maiden Mineral Resource estimate for lithium of 16.2 Mt @ 1.12% Li2O which was previously announced on June 14, 2018.
By-Product Mineral Resource estimates were based on normative mineralogy compositions for 2,289 samples in 231 drill holes previously analyzed for lithium.  The Mineral Resource estimates have been prepared by independent consultants, CSA Global Pty Ltd ("CSA Global") and are reported in accordance with the JORC Code (2012 Edition).


The industrial minerals represented by Piedmont's by-product Mineral Resource Estimates are fundamental inputs for regional industries that Piedmont can economically service given its location in the heart of the Mid-Atlantic industrial corridor.
Sunnyside Property Drilling
The initial Sunnyside drilling campaign, comprising 7 holes totalling 911 meters, consisted of exploration drilling targeting surface outcrop, sub crop and float block trends. The drill results confirm spodumene bearing pegmatite in 5 of 7 holes drilled.
Surface mapping suggested a shallow to moderate west-southwest dip of banding and mineral layering with in the outcrop blocks, therefore the initial three holes were focused on the western most outcrop exposure where the holes were oriented north-northwest with a -55 degree dip. 
Hole 18-SS-001 intersected two spodumene bearing bodies, the upper intercept was 20.9m @ 1.42% Li2O and a lower intercept of 3.0m @ 1.94% Li2O.  Holes 18-SS-002 and 18-SS-003 were designed to intercept the upper and lower extensions of these bodies, however hole 18-SS-002 encountered no significant mineralized pegmatite and hole 18-SS-003 intercepted one thin spodumene bearing pegmatite that poorly correlates to the bodies intercepted in 18-SS-001.  Holes 18-SS-006 and 18-SS-007 were drilled to the northwest at near right angles to holes 18-SS-001 through 18-SS-003.  These were to test the hypothesis that the surface exposures actually dipped southeast similar to the extensively drilled mineralized pegmatites at the Core property.  Both holes encountered spodumene bearing pegmatite with the 9.1m @ 1.11% Li2O intercept in hole 18-SS-007 best correlating with the high-grade intercept in hole 18-SS-001.  Piedmont's geologists are now considering that the spodumene bearing pegmatites intercepted in holes 18-SS-001 and 18-SS-007 is potentially a separate body to the spodumene pegmatites at surface.  In addition, it is possible that pegmatites at Sunnyside are not planar in shape.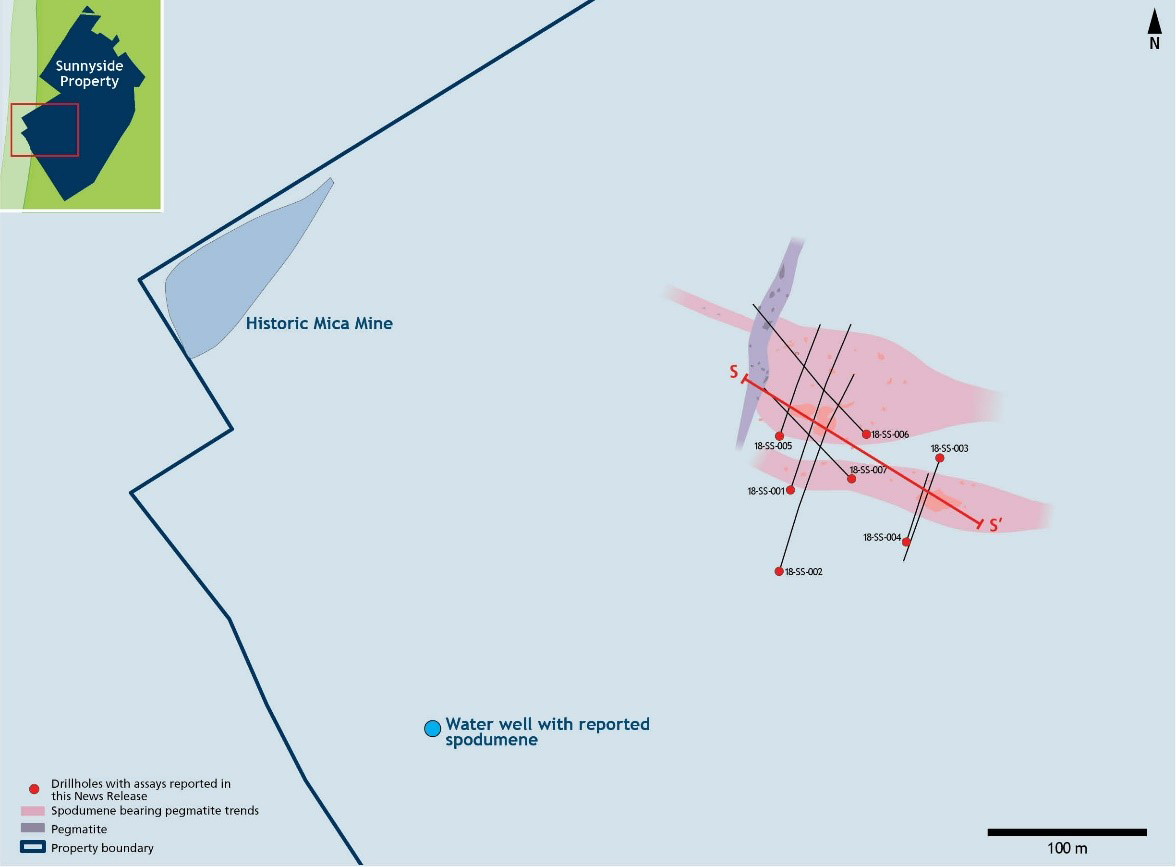 Sunnyside Project Drill Location Map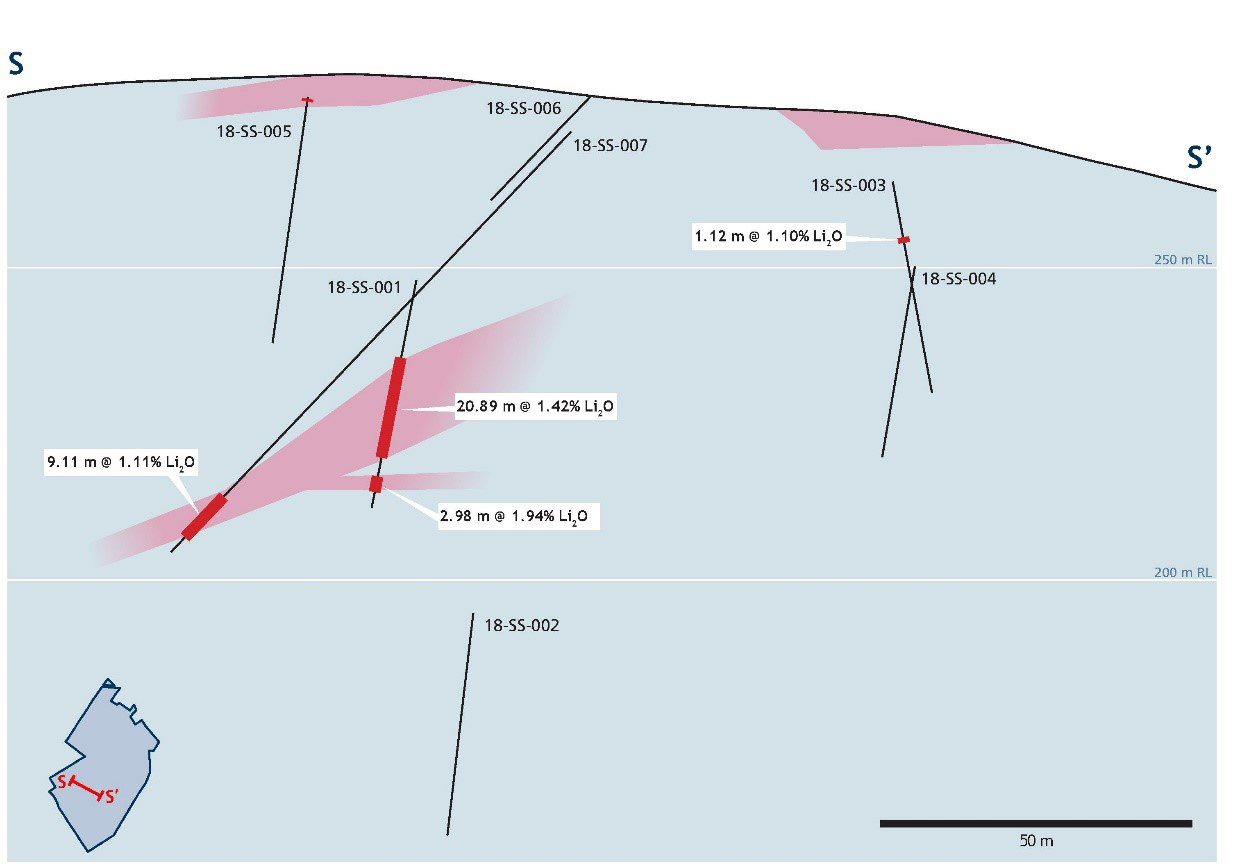 Sunnyside Cross Section